Silk Habutai Scarf
$450
The Silk Habutai is a printed scarf crafted in Shwetambari signature silk. Finished with hand beaded border. Discover the hues of this wardrobe essential.
Details:
100% Silk
Digitally Printed
Hand Embroidered
Made in India
Size:
One Size Only
40″X 60″
Behind The Seams
THE FABRIC
SILK (Resham) – Silk is a natural fiber made by the silk worm cocoon. Silk fibers are robust and known for their luster, shine and durability. All of our silks are woven in the south of India, known for the best silk weaving techniques in the world.
THE PRINT
EDITION 02 – PAANI (WATER), Reflective Beauty
THE OCEAN PRINT- All of Shwetambari prints are based on original artwork and resin paintings and digitally printed in Mumbai on our luxurious silks and finest cashmere. Edition 02 celebrates the strength and beauty of water, the body that connects and sustains us.
THE EMBROIDERY
KARIGAREE – India is known for some of the finest embroidery techniques (Karigaree) worldwide. These techniques have been passed on from generation to generation. At Shwetambari, we are proud collaborators with some of the most talented artists. Whether it is exquisite thread embroidery (Aari/Zardozi) or the art of Macrame and tassel making (Patwa), these techniques make our unique garments into wearable art.
Also available in
ocean-pink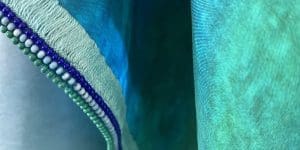 ocean-blue-green
ocean-black-white