Jaipur Robe Short
$690
The Jaipur Robe Short is an easy take on a classic kimono robe. With a vibrant all over print it can be great for lounging at home or for a night on the town styled with the Noori tank top and Darjeeling shorts.
Details:
100% Silk Satin
Silk Velvet belt with tassels
Silk Velvet piping details
Made in India
Size and Fit:
One Size Only
Behind the Seams
THE FABRIC
SILK (Resham) -Silk is a natural fiber made by the silk worm cocoon. Silk fibers are very strong and it is known for its luster, shine and durability. All of our silks are woven in the south of India which is known for the best silk weaving techniques in the world.
THE PRINTS
All of Shwetambari prints are based on original artwork and digitally printed in Mumbai on our luxurious silks and finest cashmere.
THE EMBROIDERY
India is known for some of the finest embroidery techniques (Karigaree) world over. These techniques have been passed on from generation to generation. At Shwetambari we are proud collaborators with some of the most talented artists. Whether it is exquisite thread embroidery (Aari/Zardozi) or the art of Macrame and tassel making (Patwa) these techniques make our unique garments into wearable art.
Also available in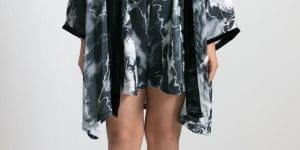 black-ivory-marble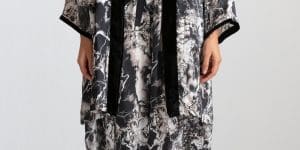 gandhi-nu-gam-black-ivory